Moving Tips
Posted on June 9th, 2011 by Julie Rodrigues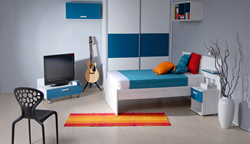 Congratulations on your studio apartment! Ignore those who put down these awesome little spaces. A studio is the perfect way to utilize your creativity and innovation. No walls means endless possibilities, so decorating a studio apartment is always an interesting challenge, and we'll help you embrace it. MovingCost.com will explain how to best craft your studio apartment to accommodate your life by stocking up on storage options, organizational containers, fun colors and light.
In the same fashion that we've presented you with edgy décor trends and creative beautifying tips, we now bring you studio apartment decorating tips.
First thing's first: Let the sun shine in.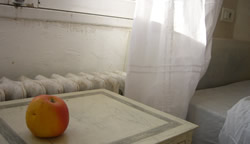 Dark, heavy curtains can bring down the aura of your place. And please, do not cover a window with a blanket! Covering natural light will make the area look crowded, stuffy and uninviting. Unless you are into the dingy bat cave look, allow the sun's rays to literally lighten and brighten your surroundings. If you choose a window covering, go for one that is sheer, airy and no darker than a cream color. The lighter the better because a bright room appears larger and happier.
Second, see yourself.
Mirrors aren't just for narcissists. They really open up a room when placed strategically. Ease out a studio's cramp with some tasteful mirrors placed throughout. Don't get a gigantic mirror, though. Start with just three small- to medium-sized ones in different areas, especially on a wall that faces a window. The practice of feng shui is all about energy flow, and mirrors play a big part in the ambiance of your home. Learn how to use this ancient Chinese practice in your studio.
Third, separate your spaces.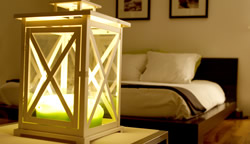 Most studios have a completely open layout which doesn't allow for much privacy, but room dividers can be used to mark off an area for your bed. You need a nice, comfy and quiet area for sleeping, so use a privacy screen or divider to enclose a corner that appeals to you. Compress your furniture throughout the rest of the apartment to focus on their purpose. Pieces that are centered together are inviting, just be sure to not have anything too bulky, as they can appear cluttered.
Follow those basic rules and you'll have a lively space. To really infuse a studio with personality and warmth, check out these tips:
Paint a light color. If you must paint, don't go for anything too vibrant or dark. Stick with an airy hue that will reflect light.
Have pops of color throughout. Choose a hot color that catches the eye and have something of that color on a desk, table, couch or hanging on a wall. For instance, an orange jar, orange book and an orange clock.
Only have one big dark piece. Whether its a TV or a luxurious, mahogany colored leather couch, having a large-sized, richly-colored item will center the apartment without weighing it down.
Get light furniture with long legs. Not only will these be easy to move, they will maintain a uniform weightlessness about the room.
Stay neat. Mess brings energy down. Have a variety of storage options such as shelves, containers, chests, ottomans, closet organizers, etc., to keep items in their place.
Have some glass. Glass is an element that visually expands a room.
MovingCost.com hopes these tips help you maximize your space. Let us know how it goes!
Tags: home improvement, moving, studio
This entry was posted on Thursday, June 9th, 2011 at 8:45 am and is filed under Moving Tips. You can follow any responses to this entry through the RSS 2.0 feed. You can leave a response, or trackback from your own site.
One Response to "How to Decorate a Small Space: Make Your Studio Apartment Work"