Moving Tips
Posted on June 19th, 2012 by MovingCost.com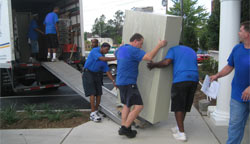 It's unfortunate, but filing a claim sometimes becomes a part of a move. Whether it is a result of loss, theft or damages, there are proper steps you need to take to settle a claim. The first thing that you need to know is what type of insurance you have. Moving companies offer limited liability coverage (approximately 60 cents per pound of goods for interstate moves), which is not nearly enough to replace your items. If you have taken out additional insurance for your move, review your policy carefully to see what they will and will not cover.
The Paperwork
Although nobody really likes to do paperwork, MovingCost.com is here to make this section of the claims process as simple as possible for you. The prudent thing to do when moving is prepare a detailed inventory list. Both you and the mover should keep a copy. When listing appliances and electronics be sure to mark brand, description and serial number.
It goes without saying that movers cannot hang around while you unpack each box; however, as you unpack make sure you check off each item. Boxes that appear to be tampered with should be photographed and opened before other boxes. Hold on to damaged boxes as evidence. Once you have gone through all of the boxes, taking notes of items that are missing or damaged, contact your mover and ask for the forms required to file a claim. Try not to delay this even though you do have up to nine months to file. When items are fresh in your memory you can recount details that might be helpful.
The claims form should be in triplicate: one for you, one for the mover and one for your insurance company. Keep a backup and hard copy of your photographs as well.
Steps to Take When Filing a Claim
Be aware that there are time frames to filing. You have up nine months to file a claim with your moving company. Once you file your claim, your moving company has 30 days to acknowledge it and 120 days to either settle it or dispute it. If the company refutes the claim you can:
Contact AMSA (American Moving and Storage Association) to arbitrate the dispute.
Contact your insurance company. They can step in and try to settle it on your behalf.
As a last ditch effort, you can take them to small claims court.
Should the moving company decide to settle your claim but the amount is being disputed, the same steps can be taken. Remember to follow up so that your claim does not fall between the cracks.
Related Articles:
Tags: Claims, File a Claim, moving
This entry was posted on Tuesday, June 19th, 2012 at 5:13 pm and is filed under Moving Tips. You can follow any responses to this entry through the RSS 2.0 feed. You can leave a response, or trackback from your own site.