Moving Tips
Posted on June 8th, 2011 by Paulina Aguilera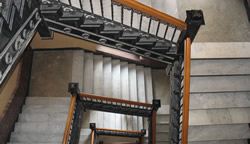 For residents in apartment buildings, moving furniture up or down a flight of stairs is one of the biggest hassles attached to a move. Some complexes don't offer service elevators that accommodate large pieces of furniture, which makes moving mattresses, armoires, sofas and tables much more difficult than it should be. Fortunately, you have an affordable moving network to turn to for the most challenging furniture moving projects, whether you're moving to an apartment, moving out of one or simply relocating to a lower or higher floor in the same complex.
MovingCost.com will not only lead you to quality furniture movers if you need them, but we're also showing you how to successfully move furniture up or down stairwells in this blog. Read on to master the ways of easy furniture moving when there is a flight of stairs to tackle.
Step One: Get Help!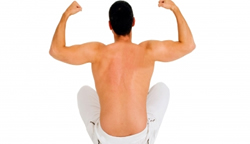 If all those hours you've spent at the gym have you feeling confident that you can move your furniture yourself, you have another thing coming. No matter how fit you may be, it is always a good idea to have helpers pitch in for additional brawn. If you decide to forgo the help of professional movers, call up a few of your friends and family members that are in good shape to help you with the heavy lifting. You want at least two people to help you move your furniture through stairs. You may also want to look into renting or borrowing a dolly to make furniture moving easier.
Step Two: Have a Game Plan
After bribing your friends and family with promises of fresh pizza after they help you, get to work by creating a game plan for the furniture you are moving. You will want to:
Remove drawers, shelves and legs of larger pieces, or
Secure drawers and shelves with tape before moving
Offer gloves to your helpers to keep the furniture from slipping
Start moving the heaviest pieces of furniture first
Make sure everyone understands to lift from the bottom with their knees, not their back
Step Three: Start Moving Furniture Out
Once your troupe of helpers are all on the same page and after legs, drawers and shelves have been removed or secured, it's time to start moving the furniture. Put the gloves on, grab one of the bottom corners of the furniture piece and hoist together on the count of three. For taller pieces of furniture, you will have to tilt them slowly and carefully to a lower angle as a group to get it through the door. One person should act as the conductor, directing where to turn and when to stop for passersby while the others lift. The conductor should also have a tarp on hand to place on the floor as furniture protection if at anytime you need to stop and take a break before you reach the stairs.
Step Four: Tackle the Stairs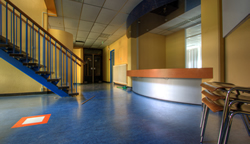 After you reach the stairwell, let the conductor put the tarp down if you don't want to scratch your furniture as you regroup. You don't want to rush this part of moving your furniture, so it's important to let everyone catch their breath for a few moments. If you had a dolly to move your furniture with, the conductor should take it down the stairs and meet you with it at the bottom (or top). You may want to count the number of stairs at this point to let your helpers know how many they have to go up or down, which is especially helpful if they can't see below them because of the size of the furniture. Lift from the corners, bending and lifting at the knees, and start moving up or down the stairs. If you come across a tricky corner, lift the furniture above the rail to make maneuvering easier until everyone makes it down the stairs safely.
That's it! You just moved your furniture upstairs or downstairs with ease and hopefully no injuries! Repeat the process until all your heavy furniture pieces are safely loaded in the truck or placed in your new apartment unit.
Tags: furniture, heavy lifting, moving
This entry was posted on Wednesday, June 8th, 2011 at 8:50 am and is filed under Moving Tips. You can follow any responses to this entry through the RSS 2.0 feed. You can leave a response, or trackback from your own site.
2 Responses to "Get Your Furniture Up (or Down) Those Stairs. . . Now!"