Moving Tips
Posted on September 27th, 2011 by Cristine Busser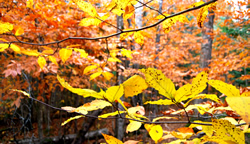 If you are one of the many people who grew up in America without ever learning what the phrase "fall foliage" means, it is time to consider moving to a place with a bit more color. There is no way you can fully appreciate the fall season without leaves to rake, hot cocoa to make, or nature's beautiful green landscapes transitioning into shades of red, orange and brown. MovingCost.com has researched a variety of travel and real estate sources to provide you with the nation's five favorite places for fall foliage.
Washington County, Maine
The nation's easternmost county, Washington County welcomes the first sunrise each day with undisturbed forests, lakes and rivers. This region serves as a rare escape from the fast-paced lifestyle in the Northeast, allowing residents to walk for miles, whether by the beach or along a trail, without being confronted by another person. Enjoy all of the blueberries and lobster you can get while embracing the land's birch, maple, oak, aspen and ash trees change to colors of burnt orange to golden yellow.
Newfane, Vermont
Proudly serving on the National Register of Historic Places, Newfane's small town charm is viewed best in the early days of October, when it's hillside foliage is reflected upon the West River for hikers, kayak enthusiasts and fishermen to enjoy. You also won't want to miss the month's Heritage Festival, where you can experience an array of the city's best craftsmanship and homemade food.


Holmes County, Ohio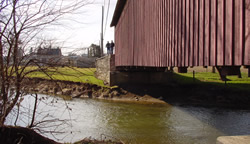 With Ohio's favorite college mascot named after the state tree, Buckeyes, you can be sure Ohio delivers some of the best foliage in the nation. The state's collection of 125 types of trees change to colors like bright yellow and vivid scarlet beginning in the first weeks of October. The most recommended way to witness Ohio's colorful display is by relocating near Holmes County, where the world's largest Amish community can be found. Here, you'll be able to appreciate fall's grace without modern day disruptions hindering its beauty. Make time to stop at one of the many Amish stores or homes to purchase freshly picked strawberries.
Ephraim, Wisconsin
Often, the top sites for witnessing fall foliage are those accompanied with a body of water that can contribute to the colors' reflection. In Ephraim, Wisconsin, nature appreciators are able to enjoy the city's blend of golden leaves while taking a stroll down the Lake Michigan shore. Whether you are interested in natural trails, or prefer to experience the changing of seasons while sailing in the harbor, this historic village truly knows how to take advantage of its enviable location.
Great Smoky Mountains, North Carolina & Tennessee
If you are seeking something to completely take your breath away; something that has the ability to stop you in your tracks; something that makes you question how such beauty can exist, then look no further than the Smoky Mountains. Offering an endless stretch of mountainous creations, the Smokies provide passers-by with everything from sugar maples and sweetgums to scarlet oaks and hickories—all painting the land with crimsons, oranges and purples. For an unforgettable way to enjoy the foliage, cross the NC/TN border by driving the Cherohala Skyway.
Tags: attractions, city, fall, outdoors fun, traveling
This entry was posted on Tuesday, September 27th, 2011 at 1:52 pm and is filed under Moving Tips. You can follow any responses to this entry through the RSS 2.0 feed. You can leave a response, or trackback from your own site.