Moving Tips
Posted on August 1st, 2012 by MovingCost.com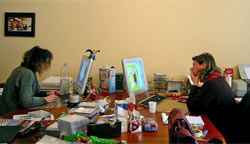 When it comes time to move an office, employees are not typically excited about the prospect. They have their specific office space, they have to pack, they have to move to a new area of town, and they have to take a different route to work in the mornings. Few people enjoy big changes, which is why you should use these seven tips to help your employees get excited about the move before your big office move.
Provide Restaurant Guides
Do a little research on the new neighborhood your office is moving to and provide your employees with the information you find. For example, if you are moving your office to a new neighborhood, you can boost your employees morale and excitement by researching the restaurants near your new office space. This will have them excited about lunch time, takeout orders, and after work gatherings in the neighborhood.
Make it Fun
The day before you move office, have a party. Have your employees come to work in casual clothes and provide them with boxes to help them pack up their office spaces. While everyone is concentrated on cleaning out their desks and preparing for the big move, order some pizzas, subs, or whatever from a favorite local restaurant and allow everyone to dig in – on you, of course.
Buy New Furniture
Give your employees an allowance for new furniture for their new office space. If you can afford to do that, this will get your employees excited about the move because they will be able to pick out something new for their office space.
Go Out
Take your employees out to dinner and drinks to celebrate the new move. By making it a big deal that sounds really great, your employees will be very excited to move. Additionally, they won't be annoyed if you take them out for dinner and drinks to celebrate. Everyone loves a free meal and cocktails.
Give Tours
Take everyone on a tour of your new office space to show them their new offices, get them excited about the views, and their new spaces. Some employees might become excited about being closer to home, their favorite neighborhoods, or their kids' schools.
Make it Positive
Tell them the good things about your new office space and get them excited about it. They will enjoy the fact that they are getting some new views and some new office stuff to try out.
Tell Them Early
Don't wait to tell your employees about your move. Make it happen early and get them involved in a good way.
Tags: Business Relocation, employees, office move
This entry was posted on Wednesday, August 1st, 2012 at 6:27 pm and is filed under Moving Tips. You can follow any responses to this entry through the RSS 2.0 feed. You can leave a response, or trackback from your own site.