Moving Experts
Posted on June 14th, 2011 by Julie Rodrigues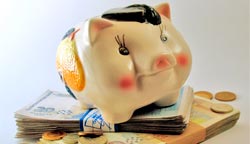 A common reason people move to a different state are hopes of a better life. Do you want to go through a stressful moving endeavor just to find out things are just as bad as, if not worse than your current location? We don't think so. MovingCost.com is sharing the top ten worst places to make a living in the United States. If the state of your interest is on the list, perhaps you should think twice before packing anything!
The information comes from MoneyRates.com who determined the results by analyzing average state wages, state unemployment rate (as of April 5, 2011), state tax rate and cost of living. Each of these impact your ability to generate income.
10. South Carolina
Even with a relatively low cost of living, this state isn't great for making a living. Wages are below average, but state taxes and unemployment are higher than usual. The adjusted-average income is $31,640 once all the factors are considered.
9. West Virginia
Low cost of living and low wages. Adjusted-average income calculates to $31,360,
8. Mississippi
One of the nation's lowest costs of living, but it also has one of the lowest wages. Income comes to be about $30,952.
7. Rhode Island
Above average, but not in areas people enjoy. Cost of living, state taxes and unemployment are all high. Adjusted-average income is $30,600.
6. Oregon
No sales tax comes with a catch – high unemployment, high cost of living and a high state tax rate. Most people's income is around $30,300. In spite of all this, research has recently found that people are still relocating here. Perhaps it's the climate?
5. Vermont
This state gets a pat in the back for its low unemployment rate, but high taxes and cost of living means most constituents' income is around $30,000.
4. California
The economy here is notorious because of its triple highs: cost of living, taxes and unemployment. All these considered, the adjusted-average income is around $29,700.
3. Montana
Average income is about $29,500, mainly because of low average wages.
2. Maine
Maine hurts its residents' wallets with relatively low wages and above average cost of living. Income comes to be around $29,160.
1. Hawaii
Yes, it may seem like a paradise, but don't plan on staying long with the extremely high cost of living and a high tax rate. Plus, food and other amenities are costlier here. The adjusted-average income is around $22,110.
On a better note, here are the top ten best states for earning a living:
Illinois
Washington
Texas
Virginia
Delaware
Massachusetts
Georgia
Tennessee
Colorado
Minnesota
These states have propelled their residents' pursuits of a stable and prosperous income, in spite of the economic storm. Though not perfect, most people enjoy a comfortable standard of living. If opportunity calls for you in any of these places, respond promptly! Your move will be wise.
Moving? Be sure to investigate the area you are considering. Stay tuned for more MovingCost.com tips.
Tags: city, economy, life, moving costs
This entry was posted on Tuesday, June 14th, 2011 at 8:55 am and is filed under Moving Experts. You can follow any responses to this entry through the RSS 2.0 feed. You can leave a response, or trackback from your own site.