Moving Experts
Posted on July 10th, 2012 by MovingCost.com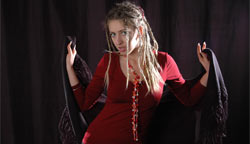 Modeling is a competitive career to pursue and even tougher if you are starting out on your own with no agent or agency booking you jobs. Having web-presence is important when starting out in the modeling industry. Scam artists and predators actively search on the internet for eager and naive hopefuls. After moving to a new city in hopes of jump starting your modeling career, it's easy to become a target for modeling scams and predators. Modeling jobs require a flexible schedule and may require commutes to unfamiliar city districts and during odd hours. MovingCost.com has some basic guides and tips to help you navigate your way around town and the web when searching for modeling jobs.
Free Modeling Portfolio Websites
When using free modeling websites, remember these websites do not screen or background check account members. Free modeling websites are open to the public and are a helpful tool to get the beginner model started with finding a photographer and booking small modeling jobs. Since these free portfolio sites are public, there are no filters to determine who is a legitimate photographer, make-up artist or modeling professional.
Here are a few sites to check out when searching for free modeling portfolio sites:
Spotting Shady Producers & Photographers
In Jacksonville, Florida, an amateur model's career and life were severely damaged when she attended a liquor commercial audition which was actually a setup for a pornography video shoot. She found the posting for the casting on a social networking website called BlackPlanet.com. The model claimed she was told to drink a few shots of liquor which she later found out was mixed with a drug. The model claims she lost consciousness after consuming the drinks, after which the 'producers' took advantage of her drugged state and raped her. She had no idea of what occurred, until a year later when she was confronted by her agent, who showed her the video that was being sold as pornography on the internet. It wasn't until then she realized she was the victim of rape and exploitation and has a pending lawsuit against the producers.
When searching for modeling and acting jobs, remember not every casting call or name provided is legitimate. Even producers, photographers, and agencies who have their own domain name websites may be professional scam artists. Research before you send in your photo or attend a casting call or audition! Don't be duped, just because you are promoting a product especially a liquor you do not have to 'test' or taste it.
Booking a Job
If you do plan to attend a casting call or audition, especially if it is long distance, ask for the name of the production company and the first and last names of the photographer, director, etc. Research these names and their portfolio. Observe the style and image they typically portray; this will help you prepare and help you get booked!
As an amateur, it is important that your image is produced in a tasteful style and that it is quality work. Professional modeling agencies don't on work on photos that are gaudy or explicit. Nudity can be considered artistic and often required in professional modeling; still it is not difficult for a nude photo to become distasteful. A distasteful image can hinder your career so be careful who you trust as a photographer.
After moving to a new city to pursuit your modeling career, be careful who you trust and where you go. MovingCost.com hopes these tips help as you start off on your modeling career.
Related Articles:
Tags: careers, fashion, Modeling
This entry was posted on Tuesday, July 10th, 2012 at 11:04 am and is filed under Moving Experts. You can follow any responses to this entry through the RSS 2.0 feed. You can leave a response, or trackback from your own site.