Moving Experts
Posted on August 11th, 2011 by Renaldo Smith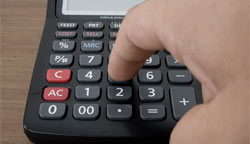 When most people think about relocating, they automatically worry about the strenuous physical activity that comes coupled with a move. However, as soon as that thought fades away, they immediately begin to focus on the often costly financial implications that are ahead. If you need some help putting your moving budget together, you've just set your sights on the right blog. MovingCost.com has come up with a list of that you should factor into your budget.
Parting Shots
Before you start to look ahead to your actual moving day, you should make sure that all of your pending bills are paid off in your current city. If you decided to break your lease, you might have to come up with cash for a heavy fine. Or perhaps you just have a few unpaid utility bills or friends that you owe money. No matter what the case may be, you should always take care of these things as soon as you can.
The Moving Process
When you sit down to plan your move, you will have two very different options. On one hand, you can opt to hire a moving company to handle all aspects of your move. If you take this route, use a website like MovingCost.com so you can find quality movers at affordable prices. Since a lot of these relocation companies will charge by the hour, give careful thought to how long it will take to complete your move and don't forget to ask about the cost of insurance. If this doesn't sound like a good idea, you can decide to handle your move on your own. Unfortunately, when you choose this option you will have to think about the price of renting a truck and paying for gas as well.
Moving Supplies
Regardless of how you decide to handle your relocation, you will need moving supplies. Take a close look around your home and try to map out a moving inventory. Once you do, estimate how many boxes you will need to pack up all of your things. You should also think about buying moving gloves and wrapping material to better protect your possessions during transport. It's always better to have too may moving supplies as opposed to too little.
Storage Fees
Are you planning to put some of your things in storage for a while? If so, take the time to get quotes from several different storage facilities. Be smart and choose a place that has around the clock security presence.
Settling In Costs
How much is the security deposit at your new apartment? Will you be able to afford cable TV and Internet installation costs right away? Once your move is completed, you will need money to get these things done. Include it all in your moving budget.
Tags: budget, moving budget, moving quote
This entry was posted on Thursday, August 11th, 2011 at 12:00 pm and is filed under Moving Experts. You can follow any responses to this entry through the RSS 2.0 feed. You can leave a response, or trackback from your own site.