Moving Experts
Posted on April 15th, 2011 by Ricardo Louis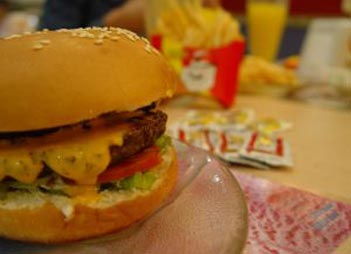 We know all about the pangs of hunger people who are about to embark on a long, grueling moving day can feel. Besides, you've got a long day of carrying around boxes and transporting heavy furniture ahead of you, so chances are you'll be exhausted, hungry and at some point will have your family buzzing in your ear about food. Cooking a quick meal at any point of the day will be a no-no because not only will you likely be tired, all of the pots, pans and dishes will be stashed away in a box somewhere. Looks like you'll be relying on fast food on all day. This is fine and all, but certain fast foods are worse than others, and it's important that you realize it. This guide shines light on the certain foods you should make it a point to stay away from as you relocate to your new domain.
Moving in the morning can be tough, but you're going to need to have a good breakfast to sustain your energy throughout the day. Since there seems to be a McDonald's on every street corner in America, you could head there for a quick bite before the movers arrive at your house. Health-wise, settle on an Egg McMuffin and a Fruit'N'Yogurt Parfait, as this meal will hold you over energy-wise for a couple of hours. Try to stay away from the McDonald's Big Breakfast, which features an inexplicably large buttermilk biscuit, hotcakes drenched in syrup and greasy chunks of sausage and hashbrowns. That adds up to a whopping 1,330 calories. We know you need energy for the long moving day you have ahead of you, but you do you need it at the expense of your health?
Now that lunchtime has rolled around, chances are you probably have a Quizno's restaurant somewhere near the area that you are moving to. Now while the sandwich chain has a wide selection of flavors available, there are certain ones you should make it a point to stay away from – like the Quizno's Large Tuna Melt. We know what you're thinking – yes, tuna is a great source of lean protein. But when you add in nearly 1,400 calories worth of fat from mayonnaise, mustard and other condiments, the health portion is rendered obsolete. Try going for the Honey Bourbon Chicken sandwich instead. The caloric content is less than half, and the savory taste of sweet chicken is just as appetizing.
Now you may want to take the family out for some ice cream in celebration of your big move and to see the town a little bit. Does Dairy Queen sound good? Of course it does – as long as you stay away from the Double Fudge Cookie Dough. If you're contemplating ordering this gargantuan mixture of ice cream, cookie dough, chocolate, more ice cream and more chocolate, ask yourself this question first: does inhaling a dessert that tops in at a whopping 1,350 calories really make sense? Especially when you can get a chocolate sundae with cookie dough topping for the same great taste, except nearly 1,000 calories less? We didn't think so.
When it's all said and done, your moving day has hopefully gone smoothly, and best of all, you didn't overload on calories. Of course, ultimately the choice of what you choose to put in your body begins and ends with you. However if you're choose to consume fast, at least consider some of the healtier alternatives listed here.
Tags: food, healthy diet, healthy foods
This entry was posted on Friday, April 15th, 2011 at 8:10 am and is filed under Moving Experts. You can follow any responses to this entry through the RSS 2.0 feed. You can leave a response, or trackback from your own site.