Moving Experts
Posted on June 2nd, 2011 by Paulina Aguilera
Yesterday, June 1st, marked the start of the hurricane season, and if you are planning on moving to the East Coast or the South this summer, knowing how to get ready for a hurricane is a must.
A hurricane is one of the most disastrous natural phenomenons on Earth, bringing with it tornadoes and waterspouts, rising sea levels, massive flooding and deadly wind speeds. Don't worry if you have never been through a hurricane; the tips MovingCost.com shares here will adequately prepare you for hurricanes of any category. Let's start by focusing on the emergency supplies needed before the hurricane strikes.
Emergency Supplies for Hurricane Season
After a hurricane, one of the first things local authorities will tell you is to NOT drink municipal water. Stocking plenty of water for everyone in the family is essential when you live in a hurricane prone area of the country. You will need at least one gallon of bottled water packs or jugs of fresh water per person per day in your emergency stock pile. Add to that non-perishables like canned and dehydrated foods, and you'll have the health basics covered.
Additional supplies to include in your hurricane checklist:
Tool set
Weather radio
Basic toiletries
Cash and credit cards
Blankets and mattresses
Can opener (non-electric)
Fully charged cell phones
Extra clothing and rain gear
Flashlights and extra batteries
Board games, books and magazines
Eating utensils, like paper plates and plastic cutlery
Pet registration, vaccination information, crates and food
Emergency first aid kit with prescription medicines for your family
Critical documents in a waterproof container (house deeds, birth and marriage certificates, insurance policies, etc.)
Make a Family Disaster Plan
Prepare your family for a hurricane by setting up a thorough family disaster plan. NOAA lays out some guidelines that we share here:
Teach small children how to dial for help with 911
Take CPR and first aid certification classes as soon as possible
Designate a few rooms in the house as safety rooms, preferably in the middle of the home
Establish a friend or relative outside of the state as the point of contact for all members of the family
Find the safest escape routes around the home, away from power lines and trees that could topple over
Have a plan in place for the family pet(s) if you are told to evacuate – most shelters are NOT pet-friendly!
Get to Know Evacuation Routes & Local Storm Shelters
As soon as a hurricane warning is in effect, things are going to get hectic around your community. That's why you should familiarize yourself with the local streets that are designated as hurricane evacuation routes as soon as possible. Check the website of your municipality for a list of storm shelters that are closest to your home, keeping your pet in mind. Knowing the route and location of your nearest storm shelter will save you valuable time when the hurricane hits.
Speak to an Insurance Agent About Flood Insurance
When you closed the deal on the home you are moving into, did you think ahead about insuring your home for flood damage? Most homeowners insurance policies don't offer any flood insurance, so it's important to go check your policy now before it's too late. Check out the National Flood Insurance Program offered by the government, which takes 30 days to go into effect once your paperwork clears. Time is of the essence, so get the paperwork for your flood insurance started today! Call NFIP directly at 1-888-CALL-FLOOD ext. 445 for more flood information.
Prep Your Home for Hurricanes with the Right Materials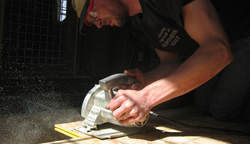 The high wind speeds that hurricanes are known for cause the most damage to homes and apartment units. Protecting the exterior of your home from potential wind damage is crucial if you want to keep your things intact. Garage doors, windows, the roof and side doors all need to be properly protected and retrofitted to prevent or minimize any damage. Again, visit NOAA for an in-depth guide on the materials needed to prep your home for a hurricane.
Generally, the supplies most homeowners use include:
Plywood and nails
Steel storm shutters
Rope to tie down fences
Duct tape for apartment windows
Aside from securing the exterior of your home, be sure to bring in any potted plants, lawn equipment and other free standing objects into a safe location inside your house.
Don't Forget About Family Pets
We can't remind you enough about how important it is to prepare your pet for a hurricane! Too many homeowners leave pets behind, thinking that they will weather the storm just fine without them. Don't put your pet through the trauma of a hurricane! If you must evacuate and the shelters in your area don't accept pets, check into a pet-friendly hotel or motel. Otherwise, gather all the necessary pet supplies discussed above, secure your pet's paperwork in a waterproof container and keep your pets close to you in the safe room throughout the storm.
You may also want to:
Take pictures of your pet in case they part from you during the hurricane
Work your pet into your evacuation plans if you are heading towards a shelter
Keep a collar with your pet's ID and a leash near you when your pet needs to be controlled
Vaccinate your pet a few days before the hurricane if you are checking them into a pet shelter
With this checklist guiding you through your first hurricane, we know that every member of your family will be safe this hurricane season. If you have any additional hurricane tips you'd like to share, feel free to leave us a comment below, or connect with us on Facebook and Twitter.
Tags: moving, planning, things-to-do
This entry was posted on Thursday, June 2nd, 2011 at 8:50 am and is filed under Moving Experts. You can follow any responses to this entry through the RSS 2.0 feed. You can leave a response, or trackback from your own site.