Moving Experts
Posted on August 23rd, 2011 by Javiera Aguilera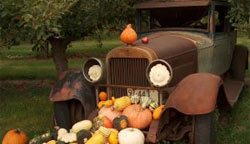 You never quite realize how much food you actually have in your kitchen until you're packing it into boxes to move from one house to another. The ideal situation would be to eat up everything you have, and just go shopping again once you've moved to the new house. Unfortunately, eating strange combinations of canned vegetables and assorted condiments is not exactly appealing to the palate. It is a conundrum. One one hand, you want to salvage food staples you know you'll use every day, but it is inevitable that some items will have to be thrown away. Fortunately, MovingCost.com is ready with a triage center for your fridge and pantry. We are set to help with a few tips on how to move with food.
1. Ask and Perhaps You Shall Receive
If you are working with professional movers, find out if they are willing to move your food items. Some movers will not move your non-perishable items. They have specific rules on transporting food across state lines, how long the move will take, and the distance between your new home and the old one. Always ask questions, and never assume anything.
If they are not willing to do move your non-perishables, then you should think about transporting the items yourself if you are driving to your new home. If you are unable to take it with you or are flying, then consider donating to a local food pantry. Local pantries can be found at FeedingAmerica.org. You'll be doing some good, and nothing will be wasted.
2. Protect Your Glass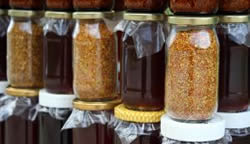 After you've found out that the movers will transport your food, the next step is boxing up the items. Before you put any glass containers into boxes, make sure you give them the same treatment as other breakable items, like dishes. Cover glass jars to prevent breaking. Use towels, packing material or newspaper. Be sure to fully envelop the container so in the event something breaks, it will be absorbed by the material instead of the cardboard box. Prevent breakage before it happens; the last thing you want to unload is a leaky box with broken glass inside.
3. Keep Good Canned Goods and Dry Foods Dry
Non-perishable items are easy to store since they come in cans or jars. Some non-perishables come in plastic pouches so it's best to keep moisture out by finding the right containers for dry food like rice, chips or cereal. Any container with a tight-fitting lid is ideal. Also, make sure to check any and all cans before putting them into the moving boxes. They have to be in perfect condition; that means no leaking, punctures or dents. Additionally, ensure that the expiration date has not passed. It is easy to overlook the details, and moving is the prefect opportunity to check everything.
4. Is Refrigeration Needed? Throw It Away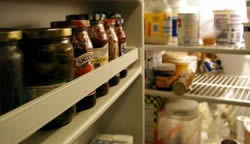 Never second-guess yourself when it comes to refrigerated and frozen items. The U.S. Department of Health and Human Services has an informative website, FoodSafety.gov, which has charts that will instruct you on how long different food items will stay frozen or refrigerated before spoiling. The safety standard is to toss everything that requires cold temperatures, unless you're planning on eating those items during the move.
Want to picnic as you move? Find a cooler that is big enough to fit in the car or truck if you are driving yourself. It is not recommended that you fly with food products.
Tags: dinning, moving, packing
This entry was posted on Tuesday, August 23rd, 2011 at 7:00 am and is filed under Moving Experts. You can follow any responses to this entry through the RSS 2.0 feed. You can leave a response, or trackback from your own site.