Moving Experts
Posted on July 26th, 2011 by Renaldo Smith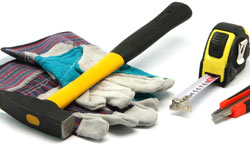 The prospect of having a quality maintenance team on call is one of the main reasons people cling to the apartment living lifestyle. After all, if you don't exactly know your way around a tool box, nothing will make your life easier than having someone standing by to handle it all for you. If you recently moved into a new complex, this MovingCost.com guide will give you some tips that will help you get the most out of your maintenance crew whenever needed. Follow these steps to correct everything from leaking faucets to wobbly door handles in a hurry.
Be Courteous
As you know, the first impression is always a lasting one. If you are introduced to the head of the maintenance department during your tour of the premises, be sure to smile and make eye contact. Or maybe you will run into a few members of the maintenance crew when your movers are taking your possessions upstairs. Even if you are busy setting up your new pad, you should make the time to say "hi." This will help move your requests to the top of the list whenever you need assistance.
Don't Procrastinate
We know that after moving in, you will probably need some time to settle down and get comfortable in your new space. But if you notice that the dishwasher is acting up or the toilet is flushing quite right, don't let the problem linger without calling for help. When you live in a crowded apartment building you should do everything in your power to get prompt service.
Be Accurate
While it's always wise to report your issues right away, filing a detailed complaint is even more important. For instance, if your air conditioning system works fine for about an hour before blowing hot air, don't say that it's not getting any power at all. When you are inaccurate, it could force maintenance to order wrong parts. This will only set you back a few days.
Choose the Right Date
Once you schedule a date and time for someone from maintenance to come over, make sure that it's not a day where your apartment will be extremely busy. If you're having a bunch of people over for a barbeque, you may want to get all of the problems corrected ahead of time. You shouldn't have to try to entertain friends while someone hammers and drills in the background.
Be Aggressive
Let's be real; not all maintenance teams are good ones. If you end up in a predicament where you're waiting week after week for service, keep calling your landlord until you get the attention that you deserve. Sometimes you have to be aggressive to get things done.
Tags: cleaning, maintenance, moving
This entry was posted on Tuesday, July 26th, 2011 at 4:59 pm and is filed under Moving Experts. You can follow any responses to this entry through the RSS 2.0 feed. You can leave a response, or trackback from your own site.