Utah
Posted on July 25th, 2011 by Renaldo Smith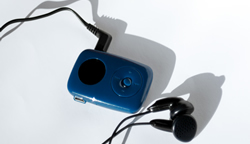 Dealing with a breakup is never easy. If you went from spending everyday in love to watching your other half hand their possessions to a team of apartment movers, now is the perfect time for you to get back on your feet. Let's start the healing process by listening to some music! Although breakup songs are known for being sad, MovingCost.comhas come up with a play list that will empower you to move on. Here are the 10 tracks you should download today!
"There's Hope" – India.Arie:
After a rough split, you need music that's optimistic and uplifting. In 2006, soul singer India.Airie delivered just that. In one of the standout tracks on her "Testimony: Vol. 1, Life & Relationship" album, Arie reminds you that there's always hope for a better day.
"Since You've Been Gone" – Kelly Clarkson:
In what many would consider to be the ultimate breakup song, American Idol winner Kelly Clarkson sings about feeling free and alive after a failed relationship. Maybe your ex was just holding you back anyway. Move on.
"Best Thing I Never Had" – Beyonce:
When the multi-talented Beyonce released her album "4" in early June, jilted lovers everywhere fell in love with this track. This song will resonate with anyone who was foolishly in love with someone who didn't treat them right.
"Someone Like You" – Adele:
English songstress Adele can do no wrong. In "Someone Like You" she sings her heart out to an ex who moved on and is now happily married. Instead of fighting for the relationship, she sings, "Never mind, I'll find someone like you."
"You'll Think of Me" – Keith Urban:
Country music star Keith Urban found one of his biggest hits when he sang about a bitter breakup. If you know that your ex will be back begging for another chance, play this song. Urban sings, "Take your space and take your reasons, but you'll think of me."
"Irreplaceable" – Beyonce:
Clearly Beyonce has been through a bad breakup or two in her lifetime. This song is ideal for anyone who dated someone with an ego too big to cope with. Pack everything they own in a moving box and leave it in the left corner of the room. This will make sense once you listen to the song.
"Nothing Lasts Forever" – Maroon 5:
While a lot of the songs on our list evoke anger, this one is a lot more calm and reflective. The song opens with the powerful lines, "It's so easy to see dysfunction between you and me. We must free up these tired souls, before the sadness kills us both."
"Go On Girl" – Ne-Yo:
This is the classic story of a good guy who's in love with a girl that's not ready to settle down. If you can relate, listen to Ne-Yo's story.
"Unfaithful" – Rihanna:
Come on now; you know we had to represent both sides of the spectrum. In what could be a response to "Go on Girl," Rihanna sings about a boyfriend who was unfaithful all along.
"Over You" – Daughtry:
Wrap up your playlist with this 2007 release from rock band Daughtry. This song will remind you that it's okay to admit you're hurt, but eventually you will pick up the pieces and move on.
Tags: moving, music, relationships
This entry was posted on Monday, July 25th, 2011 at 8:20 am and is filed under Utah. You can follow any responses to this entry through the RSS 2.0 feed. You can leave a response, or trackback from your own site.
One Response to "Let's Find Strength in Music: Our List of the 10 Best Breakup Songs!"