Tennessee
Posted on April 12th, 2011 by Renaldo Smith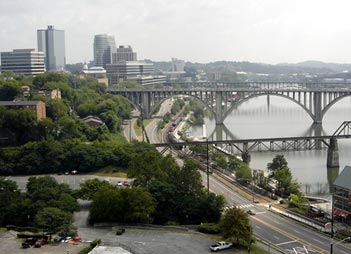 There isn't another city on the planet that's quite like Knoxville, TN. With the lively presence of the University of Tennessee, an impressive lineup of major companies and the brand of All-American neighborhoods you've been longing for, it's easy to see why so many people make the move to Knoxville annually. If you would like to know more about this energetic city, all you have to do is read the rest of this MovingCost.com local moving guide.
Since we are in Spring, it's only right that we get started with the rich arts community that helps to define Knoxville – especially during this time of year. Have you heard about the Dogwood Arts Festival? Well, it is one of the most highly anticipated festivals in Knoxville and practically takes over the city from April 1st – May 6th. The event, which is meant to highlight mile after mile of breath-taking gardens throughout the city while simultaneously shedding light on some of the more talented artists in the state, never has a dull moment. The Market Square Art Fair, which is one of the more heralded parts of the festival, will take place from April 15th-17th in Downtown Knoxville.
Okay, so maybe you would prefer to just sit at home or check out your new neighborhood instead of hitting up the arts festival. When you live in a community like Bearden, Forest Heights, Rocky Hill, or any of the other inviting communities in Knoxville, there will truly be no better place than home anyway. If you have pets, perhaps you can go for a walk at Victor Ashe Park (4901 Bradshaw Rd). Meanwhile, those of you who are moving to Knoxville with kids should check out Chilhowee Park at 3301 East Magnolia Avenue. With 81 pristine acres, an amphitheater and the calming Lake Ottosee, this park is the perfect destination for an all day escape.
Knoxville is one of the only places in the country that offers residents affordable sophistication and small-town family values at the same time. Why wouldn't you want to take advantage of the best of both worlds? Something as little as watching a live show at the Bijou Theatre or enjoying the best rack of ribs you will ever taste at Calhoun's (400 Neyland Dr) will be enough to get you completely hooked on your new life in Knoxville. If this sounds like the kind of city you can really see yourself building a future in, contact a band of professional movers and make the shift happen right away!
Tags: attractions, city, lifestyle
This entry was posted on Tuesday, April 12th, 2011 at 6:40 am and is filed under Tennessee. You can follow any responses to this entry through the RSS 2.0 feed. You can leave a response, or trackback from your own site.