South Carolina
Posted on April 5th, 2011 by Renaldo Smith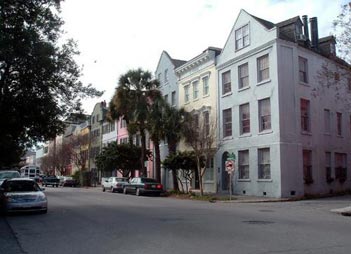 Charleston, SC gives off a certain feel that can't be duplicated. It is the kind of city that somehow feels as though its anchored by history and tradition, while being progressive and groundbreaking at the same time. Although MovingCost.com won't attempt to explain the dynamics of this uncanny mix, we will take you on a brief, yet detailed tour of Charleston. Are you ready to hear more about the city that many call South Carolina's best? Let's get it started then.
Charleston has always been known for two distinct things – unbelievable tennis courts and a live theater scene that will leave you in awe. Just last year, Charleston was named Best Tennis Town by the United States Tennis Association, an honor that gave the city $100,000 to better its facilities and strengthen its tennis programs even more. Two of the more poplar places to play tennis in the city are at the St. Andrews Park and Playgrounds (1095 Playground Rd) and the Maybank Tennis Center (1880 Houghton Dr).
If you are tired after helping out the apartment movers that you hired, maybe you should leave the tennis for later and head straight to one of the brilliant live shows in the area. Starting on April 15th, you will be able to catch The Original Peter Pan at the Dock Street Theatre (135 Church St.). If you plan to make your way to Charleston even sooner, you may want to check out The Fool's Lear at the Charleston Ballet Theatre (477 King Street). You can catch The Fool's Lear on April 8th at 7:30pm.
In addition to the fantastic sporting venues and amazing live shows, a lot of people are also drawn to Charleston for its stunning Carolina beaches. Regardless of whether you are looking to sit near the ocean and read a book, or hit the shores for a weekend party with your new friends, you will be able to do it all here. One of the better known beaches in the area are the Beachwalker County Park (1 Beachwalker Dr). This is the kind of 10-mile stretch where you can shed all of your worries and truly relax after a long relocation process.
There aren't many places in the world that will give you the opportunities that Charleston will. With such an eclectic mix of neighborhoods and all of the natural beauty that you could ask for, do you even doubt that you will love living here? Make your way to Charleston now so you can live out all of the things we discussed in this edition of local moving.
Tags: city, fun activities, sports
This entry was posted on Tuesday, April 5th, 2011 at 5:20 am and is filed under South Carolina. You can follow any responses to this entry through the RSS 2.0 feed. You can leave a response, or trackback from your own site.