New York
Posted on September 19th, 2011 by Renaldo Smith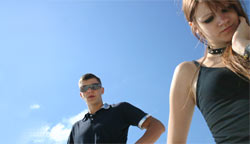 You knew that once you moved in together, you would begin to notice things about your lover that you didn't before. Unfortunately, living under the same roof has taken your jealousy to a level that has your relationship on the rocks. In this edition of Local Moving, MovingCost.com will give you some advice that will help you keep your jealously under control and save your relationship before it's too late.


Focus On You
We know that you don't want to hear this right now, but maybe you need to. More times than not, jealousy stems from insecurity. When you're not happy with yourself, it could lead you to second guess all of the things that mean the most to you … including your relationship. Regardless of whether you get a new gym membership, sort out your issues at the office or go back to school to pursue your educational goals, you should take some steps to make yourself happy. Self confidence can make all the difference in the world.
Stay Dedicated to Your Relationship
There isn't a happy couple in Buffalo, NY that found romantic bliss without trusting each other. If you start to get to a point where your jealousy begins to create a great deal of tension, you need to re-dedicate yourself to the one that you love. If you were to give your all to the relationship, you won't have to worry about your other half stepping out to get the things that you're not providing.
Set Some Ground Rules
Every relationship should have some rules that both partners agree on. If you got mad because your girlfriend had a long conversation with one of the apartment movers, maybe you need to calm down and stop reading into things so much. Or maybe you're a female who believes that your boyfriend shouldn't be present at certain kinds of bars throughout the city. Remember to be open and discuss these things. When you make assumptions, it will only lead to explosive arguments down the line.
Keep Yourself Busy
If you work a part-time job and your other half works full time and goes to school, you probably won't have a lot of time together. Instead of just sitting on the couch and letting your mind run wild, get up and do something with your free time. You may want to think about picking up some extra work on the side or joining a local sports league.
Shut Off the Gossip
No matter how old you get, you will never be able to completely escape the gossip. So if you were to hear a rumor about your partner, remember to do your own investigation before you jump to conclusions. There may be some people out there who won't be happy until your relationship ends.
Tags: dating, love, relationships
This entry was posted on Monday, September 19th, 2011 at 10:15 am and is filed under New York. You can follow any responses to this entry through the RSS 2.0 feed. You can leave a response, or trackback from your own site.