New Mexico
Posted on September 14th, 2011 by Renaldo Smith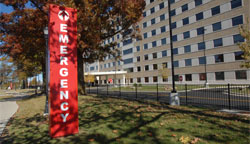 From deciding which team of professional movers to work with to settling on the right color paint for your living room, you've been presented with tons of options over the past few weeks. But now that you're getting accustomed to your new life in Albuquerque, NM, it's time for you to make a decision on something that you should regard as mandatory. That's right; we're talking about finding a new health care plan. Join MovingCost.com as we go over some tips that will help you choose a plan that's right for you.


Explore the Market
Seeing that health insurance premiums are on the rise, it's essential that you choose the plan that will give you the best coverage for the price. If you opt to pass up the health care plan offered by your job, you will have countless other options to choose from. You can get started by using a website such as eHealthInsurance. Here is where you will be able to get offers from a wide range of companies in one convenient place.
Analyze Your Situation
When you invest in a health care plan, it should be tailored to your life as much as possible. Give us a second to break this down a little bit more. If you're a single young professional, you may only end up having to see the doctor once or twice per year. However, if you're the head of a household with a bunch of young kids and teenagers, you may need to make trips to the hospital much more often. Although you can never predict sickness, you should know just how much coverage you really need.
Think About Your Contribution
In the health care world, the contribution is the amount of money that will be deducted from your paycheck. If you work at a job where you barely make enough to get by, you won't be able to afford an exceptionally high contribution. If you're in a situation like this one, ask about purchasing the aspects of the health plan that you need most. In other words, you may want to take the medical and skip the dental and/or vision coverage until you land a better paying job.
Focus on Other Money Matters
Once you get the contribution down pact, you should focus on both the co-payments (copay) and the deductible. These are two important elements of every health care plan. Basically, your copay is the amount of money that you will have to pay to see the doctor and/or get prescription medication. If you settle on a relatively cheap plan, your copay will probably be costly. On the other hand, your deductible is the amount of money that you will have to pay before your insurance comes into play. Take your income into account and try to find a plan that gives you a good balance of both.
Tags: health, healthcare, healthy tips
This entry was posted on Wednesday, September 14th, 2011 at 9:38 am and is filed under New Mexico. You can follow any responses to this entry through the RSS 2.0 feed. You can leave a response, or trackback from your own site.