New Hampshire
Posted on July 5th, 2011 by Renaldo Smith
When you first opened your business in Nashua, NH, you knew that you had a bright future ahead of you. But even though your career ventures have brought you lots of success, you have to admit that the stress and worry of the business world has made you weary over the years. Thankfully, MovingCost.com has devised some tips to help you re-inject the fun and passion into your career.


Get to Know Your Staff
In the race to make as much money as possible, a lot of business owners never find the time to talk to their employees about anything but work. Maybe you should throw a company party for a change and take the time to really get to know the people who lay it all on the line for you everyday. Forming a deeper connection with the people in your office can make your day-to-day grind more enjoyable.
Take Some Risks
If you have a pretty loyal consumer base, it makes sense that you want to stick to the same formula. However, that doesn't mean that you can't test out new products every now and then. If you own a restaurant, create a new sauce and test it out on your family first. Or maybe you run a hardware store. If that's the case, order a small supply of a few products that you never offered. Shake up your inventory list and keep things fresh.
Leave the Desk!
When you spend each and everyday giving orders from behind a desk, life won't seem nearly as interesting. Eventually, the calls and meetings will begin to seem mundane. Take some time to go around the city and attract new customers. It seems like everyday a team of movers helps someone make the transition to Nashua. Strike early and tell the new residents about your services before the competitors get to them. Marketing can be fun!
Learn More
Even if you are one of the more seasoned entrepreneurs in New Hampshire, there's always room to learn more about your field. Since the local economy here is an evolving one, sign up for a few business seminars that might help you out down the line. Learning new things creates excitement.
Change Roles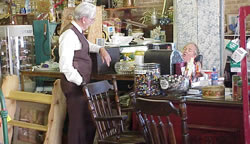 Can you remember the last time you actually went to the front of the store and assisted a customer? Oh, and how long has it been since you were the one to fax documents and file important papers away? Just because you're the big boss now, it doesn't mean you can't revert back to your old days and set an example for your employees.
Tags: moving, relocating, saving money, starting business
This entry was posted on Tuesday, July 5th, 2011 at 8:10 am and is filed under New Hampshire. You can follow any responses to this entry through the RSS 2.0 feed. You can leave a response, or trackback from your own site.