Nevada
Posted on July 22nd, 2010 by Alejo Tenutta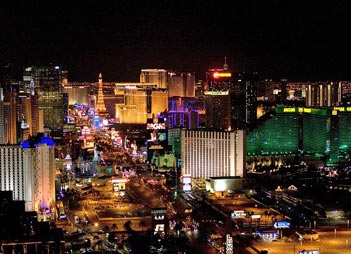 Las Vegas is well known for its gambling, shopping and dining. So if you're interested in rolling the dice, while scouring through racks of trendy threads and eating filet mignon, moving to Vegas is the easy choice!
Gambling:
Most people imagine casinos filled with men in tailor made suits, slicked back hair and overpriced cigars titled at the corner of their mouths, producing a ring of smoke that lingers longer than their luck. While others picture out of place tourists with tucked in flower print shirts, outdated visors and fanny packs strapped around their protruding waist as they play slot machines. Well both would be right, because Las Vegas casinos attract millions of unique visitors a year and are some of the most famous worldwide. Casinos such as the Golden Nugget, Four Queens and Binion's Gambling Hall and Hotel just to name a few. Come relocate to the city where cocktails meet poker chips, and luck can be extremely lucrative.

Shopping:
Las Vegas is the ideal place for getting lost amongst countless racks of fashionable fabrics. So if you're a fan of adorning the latest threads then make your way over to the Bellagio, Venetian and Caesars Palace among many others. These places might place a serious strain on your wallet, but be certain that these are some of the finest shopping locations around the world.

Dining:
Take a bite into a juicy steak that melts right in your mouth as you eat at the endless buffet at the Bellagio Hotel. Here is where world-renowned Executive Chef Wolfgang Von Wieser caters to an astounding 4,000 plus tourists. From mouth-watering Kobe beef to eight different types of pizzas, you're certain to discover something for every taste bud. So if you're considering relocating to Las Vegas, make sure to stop by the Bellagio Hotel, where you have access to their most popular dishes, such as the beef Wellington, fish and suckling pig.
Tags: attractions, las vegas
This entry was posted on Thursday, July 22nd, 2010 at 9:18 am and is filed under Nevada. You can follow any responses to this entry through the RSS 2.0 feed. You can leave a response, or trackback from your own site.