Minnesota
Posted on August 2nd, 2011 by Jennifer Marcial-Ocasio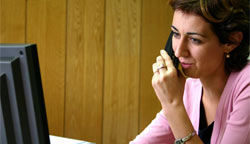 Like most people in Plymouth, MN, you strongly believe that the weekend is a time that should be reserved for a mixture of rest, relaxation and fun activities. So now that your boss has broken the news about you having to work on weekends from now on, it's understandable if you're in a foul mood. Thankfully, MovingCost.com is here to help you find joy amidst your anger. Here's why working on the weekends may not be so bad after all.


No Pressure
When you report to work on the weekends, you won't have your boss breathing down your neck because he will be out playing golf. The annoying coworker that you hate dealing with on a daily basis will be torturing someone else on her day off. Oh, and the secretary who always complains about your music being too loud won't been there either. Even if you're not completely alone, the weekend always brings a more laid-back feel at work. Take full advantage of it.
Space to Take Risks
Once you see how comfortable the office will be without a lot of your colleagues, don't be surprised if you get more done in record time. As your productivity increases, you should also make an effort to be more creative than ever before as well. Do the kind of work that will make your boss and everyone else proud when they get in on Monday.
Weekday Flexibility
When your schedule calls for you to work on the weekends, it means you will have a day or two off during the week. This will allow you to run errands that you may not be able to do on the weekends since a lot of businesses are closed. Regardless of whether you need to go to the dentist or apply for a new driver's license, having some freedom during the week will help.
Save Some Money
Of course, working on the weekends will mean you may miss out on a lot. Your best friend will be forced to hire professional movers since you won't be there to help her move. Your cousin won't be happy that you won't be able to attend her annual summer pool party either. But look at the other side of the equation. When you miss a bunch of events, it allows you to hold onto a lot of the money that you work so hard to make.
Increase Your Income
While working on weekends may not increase your hourly pay right away, it could give you some leverage for a promotion down the line. Since a lot of employees run away from the weekend work assignments, your willingness to do whatever your boss needs will earn you major points. This is definitely a move you can make to gain some job security.
Tags: weekend jobs, working
This entry was posted on Tuesday, August 2nd, 2011 at 9:36 am and is filed under Minnesota. You can follow any responses to this entry through the RSS 2.0 feed. You can leave a response, or trackback from your own site.