Maryland
Posted on September 9th, 2011 by Renaldo Smith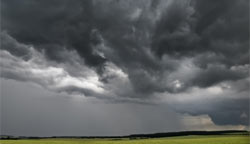 With several tropical storms brewing in the Atlantic and more than two months left in the 2011 hurricane season, nobody can blame you for being just a little bit on edge right now. If the first major storm of the season, Hurricane Irene, wasn't enough to wake you up and make you pay attention, hopefully this MovingCost.com guide will do the trick. We've come up with five tips that will help you through the rest of the hurricane season.


Stay Updated
If you're the type of person that's often out of touch with the rest of the world, you may want to start watching the news or picking up a newspaper every now and then. By staying abreast on the latest weather developments, you will give yourself time to prepare for a hurricane or make evacuation plans if needed. If you're busy right now with work, visiting family and your apartment movers, be proactive and download the popular Weather Channel application on your cell phone.
Do Some Shopping
The next time you go to the store and you see a flashlight on sale, throw it in your cart. When you go out to get groceries later today, buy a couple of extra cases of water to store away for emergency purposes. When you keep extra supplies on hand, you won't have to worry about dealing with the crowds and high prices if a hurricane really does make its way to Baltimore, MD.
Check Your Schedule
If you have a couple of business meetings lined up in other parts of the country, or you were thinking about doing a last-minute vacation, you might want to think about purchasing travel insurance. For instance, if you were excited about the idea of flying out to Miami, FL to have some fun in the sun, a nagging tropical storm could very well put your trip on hold. So when you book your ticket, talk to the travel agent about the things you can do to have more flexibility during your travels.
Focus on the Home
What's one major benefit of the hurricane season? The fact that it forces us to buckle down and tackle the home improvement projects that we love to neglect. If you have a small hole in your roof or a couple of cracked windows, you may want to call in a repair crew before heavy wind and rain arrives. Now would also be a good time for you to call up your insurance company to make sure your home is covered under storm damage.
Expect the Unexpected
Even if you've never experienced a hurricane before, you have to stay on your toes and believe that one can make its way to Maryland when you least expect it. If you underestimate the power of a storm or simply feel as though it won't do much damage, you could have another thing coming.
This entry was posted on Friday, September 9th, 2011 at 1:00 am and is filed under Maryland. You can follow any responses to this entry through the RSS 2.0 feed. You can leave a response, or trackback from your own site.