Maine
Posted on September 16th, 2011 by Renaldo Smith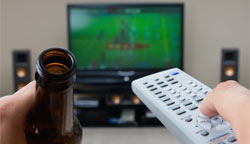 When you were moving to Bangor, ME, your boyfriend went on and on about leaving his beloved football team behind. So now that the season has officially started, it should come as no surprise that you will have to cope with a heavy diet of the NFL. Thankfully, MovingCost.com is here to help you make it through. We've come up with some tips that will help you survive the long season.


Be On the Same Side
When you're dating someone that's passionate about sports, the worst thing you can do is cheer for a rival team. While some sports arguments can be fun, it will eventually create the kind of tension that you don't need. Keeping a relationship going is hard work in itself. Don't make things more complicated by creating problems over a football game.
Learn the Rules
If you're going to be watching a few games during the season, you might as well take some time to study the rules of the game. Even if you do this research on your own, you should ask your boyfriend to explain some things to you prior to the start of the game as well. This will give him a chance to light up and flaunt his knowledge. The least you can do is get a grip on concepts such as the role of the quarterback, punt returns, field goals and how defensive players can make a difference. We apologize if you feel a bit overwhelmed already.
Study the Schedule
The arrival of the football season can actually work in your favor. See, while you should force yourself to watch some of the games, you don't have to sit there and tune into each and every one of them. So while your boyfriend is glued to the screen, you can use the time to set up a deal with your apartment movers, go shopping at your favorite store or just hang out with friends who you haven't seen in a while.
Find Your Own Entertainment
Okay, so we know that you won't feel like going out and running around every time a football game is on. That's why you need to get used to finding your own entertainment at home. If your boyfriend watches his games on the flat screen television in the living room, load up your romantic movies in the bedroom. Or maybe you can use the extra time to prep for the upcoming day at work or do some homework if you're in college.
Surprise Him
Even though Bangor doesn't have a professional football team, you should plan to get tickets to at least one game before the season ends in nearby New York or Pennsylvania. Check to see when his favorite team will be visiting either of these states and set up the tailgating party of a lifetime.
Tags: dating, sports, sports fanatic
This entry was posted on Friday, September 16th, 2011 at 10:10 am and is filed under Maine. You can follow any responses to this entry through the RSS 2.0 feed. You can leave a response, or trackback from your own site.