Louisiana
Posted on September 12th, 2011 by Renaldo Smith
In an effort to lose weight and/or build muscle, you can easily get injured along the way. That's why MovingCost.com has compiled some tips to help you stay healthy and evade the dreaded gym injuries. So while you look for your workout gloves and load up your iPod, we will tell you about some of the steps you should take to stay safe at the gym.


Dress the Part
When you try to do an aggressive workout in heavy denim pants and flip flops, you are asking for trouble. Not only will your movements be limited the whole time, but you will also run the risk of dropping a heavy dumbbell on your bare toes or straining a tendon due to your lack of mobility. Make the smart choice and wear a pair of shorts and proper running shoes. You may also want to think about wearing a back brace for added support.
Stretch It Out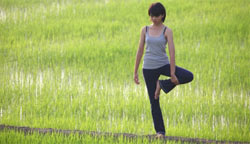 If you're the type of person who walks into the gym and starts lifting weights right away, it may not be long before you strain a muscle. See, when you have a warm-up session first, you will relax your muscles and prep your body for the rigorous workout that lies ahead. If you are often pressed for time when you workout, just set aside a few minutes to stretch first. It could save you from a few hours of pain later.


Educate Yourself
Once you join a gym in Baton Rouge, LA, you may want to ask one of the in-house personal trainers to give you a quick lesson. While the workout machines may seem simple at first glance, many of them are more complicated than you think. If you try to lift something the wrong way, or position yourself awkwardly on a bench, you could really hurt yourself. When in doubt, just ask questions.


Stay Focused
Since you just moved, you probably need to send emails to your furniture movers, pay some old bills and check in with all of your family and friends back home. While some multitasking at the gym is okay, trying to do to much while you run on the treadmill can land you in a hospital. If you can, try to get a lot done early in the day so you can zone in and workout.
Know Your Limits
We know that you can't wait to show off your new body at an upcoming pool party. However, you have to remember to pace yourself. If you your muscles are incredibly sore and you can barely move, maybe you should take a day or two off to let your body heal. Overdoing it will only make things worse.
Tags: exercising, gym, sports
This entry was posted on Monday, September 12th, 2011 at 2:17 pm and is filed under Louisiana. You can follow any responses to this entry through the RSS 2.0 feed. You can leave a response, or trackback from your own site.