Kentucky
Posted on April 29th, 2011 by Renaldo Smith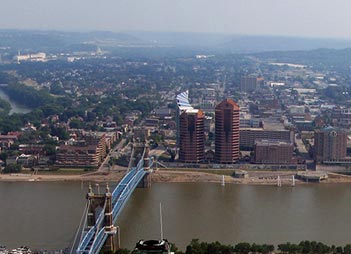 You love everything about your recent move to Covington, KY, don't you? Your new job is just as fast-paced and rewarding as you thought it would be. The neighborhood that you live in is safe and cozy. And great restaurants like Otto's (521 Main St) and Greenup Cafe (318 Greenup St) are an added plus. Now, if only you would've settled on a more spacious apartment, everything will be just perfect, right? Since you can't turn back the hands of time, MovingCost.com is here to help you do the next best thing. Let's find some ways to make your cramped space look bigger.
Before we get into some of the decorating and design tricks, the first step should be a simple one. Get rid of all the things that you don't use! If you still have boxes and wrapping paper laying around since your apartment movers left, it's time to do some spring cleaning. Donate some of your old clothes to charity, put your college textbooks in your closet or in a bookshelf on the corner, and sell the extra bar stools that are clogging up your walkway.
After you create some extra space, use curtains or blinds to create different sections. If you have a studio apartment, nothing will make it look smaller than just having a room with a bed and a television all in the open. However, when you put up a divider to separate the bedroom from the living room area, it will immediately appear to be more spacious. By turning your couch away from the door and using a mid sized coffee table, your hangout area will seem larger than ever before.
Now that you have an idea of how you should arrange your apartment, you should make sure that you have the right pieces of furniture. Since your place isn't the biggest, try to invest in a large comfortable couch, and then put small ottomans and side tables around it. By making the couch the focal point of your apartment you will create more of a lounge type feel as opposed to one where your guests feel trapped in a tight space.
If you follow these steps, you should begin to see drastic improvement in the overall appearance of your apartment. If you have a balcony, keep the blinds pulled back during the day to let some light in. You may also want to look into adding a wall mirror to your living room area. By combining these two tips with a light shade of paint on your walls, your studio will look more like a spacious one-bedroom apartment before you know it.
Tags: apartment living, city, decorations
This entry was posted on Friday, April 29th, 2011 at 6:00 am and is filed under Kentucky. You can follow any responses to this entry through the RSS 2.0 feed. You can leave a response, or trackback from your own site.