Illinois
Posted on September 7th, 2011 by Renaldo Smith
In the past weeks, thousands of energized college students have flooded the dorms and hallways of colleges all over Chicago, IL. If you happen to be one of them, this MovingCost.com guide will give you some tips to make your fall semester more enjoyable. So push the textbooks aside for a minute and pay attention.


Put School First
Regardless of whether you're a nervous freshman or a senior that's eying graduation, this semester will fly by. That's why you need to make sure you include a lot of study time in your schedule from the start. Even though the college scene brings a lot of fun activities, you have to remember that nothing is more important than your education at this point in your life. If you really want to have a memorable semester, you have to work hard to find success in the classroom.
Get into the Sports World
The Labor Day weekend often signals the beginning of the college football season. This is a time where universities all over Chicago get even rowdier than normal. Even if you're not exactly a sports fanatic, attending the games will give you a chance to network and truly experience the school spirit that you've been hearing about. So do yourself a favor and check out the upcoming schedule for the college team of your choice. You deserve to take a break from the studying to enjoy an entertaining game every now and then.


Make Holiday Plans
Even if your college movers just helped you move into your new apartment, it won't be long before you get your first break from school. If you plan to visit family in another part of the country for Thanksgiving and then fly home for Christmas, you may want to make your travel plans now. When you buy tickets early, you will save big and have something to look forward to.
Be Active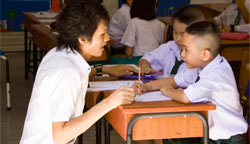 College life will present you with ample opportunities to volunteer and make a difference in your school and community. You can opt to plant flowers in a local park, help build a home for the less fortunate or even work on a committee at school. If you are too shy to do it on your own, join an on-campus group and fight for a cause that you believe in. Helping others will make college more rewarding and boost your resume in the process.


Look Ahead to Spring
In college, everything you do now will affect you in some way next semester. So don't forget to make an appointment to meet with your advisor and go over your course of study to ensure that you're on the right track towards graduation.
Tags: college, college students, fall
This entry was posted on Wednesday, September 7th, 2011 at 10:17 am and is filed under Illinois. You can follow any responses to this entry through the RSS 2.0 feed. You can leave a response, or trackback from your own site.