Hawaii
Posted on April 7th, 2011 by Renaldo Smith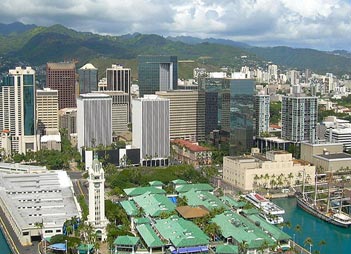 There's no doubt that Honolulu, HI is one of the most sought after vacation destinations in the world. When you consider its majestic landscapes, memorizing waters and embracing residents, you will see that Honolulu effortlessly lives up to all of the hype. While visiting the island is an option, more and more people have been looking to call Honolulu home in recent years. If you're ready to follow in their footsteps, MovingCost.com is here to introduce you to some of the best areas in the city.
No matter where you move to, you should always try to find a neighborhood that fits your personality. After all, if you're not going to be happy when you're at home, why bother moving at all? First, let's discuss some of the communities in Honolulu that will be a perfect for someone who is outgoing and prefers to be in the thick of all the major events. Regardless of whether you are looking to get accepted to Hawaii Pacific University or you simply want access to the largest commercial market in Honolulu, you should head towards Downtown. If you are an avid shopper, try to find an affordable apartment in Kaka ' ako. This is where you will find the long line of boutiques at Ward Center (1240 Ala Moana Blvd) and some of the best specialty stores in the city.
While both of the previously mentioned areas are known for a high level of activity, none of them can really compare to the rapid pace that you will find in Waikiki. As the undisputed tourist capital of Honolulu, you will be able to enjoy what is arguably the best nightlife scene in the state. If you want to grab a quick bite to eat while your movers unload you possessions, hit up The Shack at 2255 Kuhio Avenue. Some of the other top restaurants in the area include Tiki's Grill & Bar (2570 Kalakaua Ave) and Teddy's Bigger Burgers (134 Kapahulu Ave).
Now let's switch courses a bit and shed light on some of the neighborhoods in Honolulu where you can get the small island feel and peace and quiet that you crave. When you move to Pauoa, Palolo or Makiki, it won't take long for you to find a beautiful apartment in an area that's safe and secure. These are the type of communities where it seems as though everyone knows each other. If you are looking for something a bit more affordable, you may want to check out areas such as Palama and Salt Lake instead. In any event, you are sure to love everything about your new community in Honolulu.
Tags: attractions, city, neighborhood
This entry was posted on Thursday, April 7th, 2011 at 6:00 am and is filed under Hawaii. You can follow any responses to this entry through the RSS 2.0 feed. You can leave a response, or trackback from your own site.