Hawaii
Posted on May 10th, 2011 by Renaldo Smith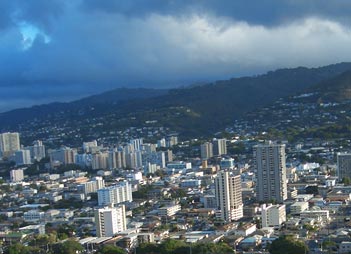 If you just moved to Pearl City, HI, it's okay to leave the work to your apartment movers so you can really admire the beauty all around you. With the kind of beaches that can be seen on postcards and even more towering palm trees than you saw in your dreams, Pearl City is one of the more beautiful destinations in the world. Unfortunately, there has always been a thin line between Mother Nature's magic and fury. As the 2011 hurricane season nears, MovingCost.com has decided to give you 5 tips that you should certainly take heed to.
Do an insurance check: When the hurricane season kicks off on June 1st, everyone in Hawaii will be hoping for another term without any heavy damage. But just because no major hurricane has seen landfall in recent years, there is no guarantee that the streak will continue. Don't wait until the last minute to make sure that your new home is insured for any major damage. Don't be lackadaisical and put yourself in a position where you will have to rebuild out of pocket.
Disaster supply case: After you carefully go over all of your insurance documents, it will be time to do some shopping. When you start putting your secret supply together, buy non-perishable food items and stock up on enough drinking water to last you for about four days. Things such as canned food, a rain coat and boots, and a fully functional first aid kit should all be included in this disaster case. You may also want to fill up three or four containers with gas and keep it hidden in your garage. If you think gas prices are high now, wait until you see how much they will rise if there's a hurricane warning in effect.
Make efforts to protect your home: Just because you made sure your insurance coverage was up to par, it doesn't mean you shouldn't take the necessary steps that could protect your home from damage. Regardless of whether you buy storm shutters or a pile of wood to board up your windows, you will be able to get them cheaper now.
Think about an alternative place to stay: Even if you are new to Pearl City, this is something that you should start thinking about right away. If you have to evacuate, where will you go? Do you have family and friends nearby with a more secure home? Or would you try to fly out right away? If neither of these options work, your safest bet would be to go down to the city's Department of Emergency Management's hurricane shelter at Pearl City High School (2100 Hookiekie St).
Expect a storm: Science tells us that since the waters in Pearl City are not as warm as they are in the Atlantic Ocean, the chances of a devastating storm are not as high. Meanwhile, history shows that only 5 hurricanes have made landfall in the state since 1950. However, none of this gives you any real insight into what will happen this time around. Keep your guard up and follow the aforementioned steps.
Tags: city, hurricanes, safety
This entry was posted on Tuesday, May 10th, 2011 at 7:20 am and is filed under Hawaii. You can follow any responses to this entry through the RSS 2.0 feed. You can leave a response, or trackback from your own site.