Florida
Posted on September 27th, 2011 by Renaldo Smith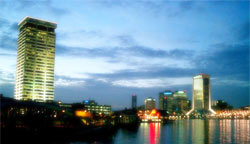 If you were recently fired from your job in Jacksonville, FL, you may be eligible for unemployment benefits. This could help you out a lot as you search for a new job and a team of movers to help you transition to a cheaper apartment. In this saga of Local Moving, MovingCost.com will give you a guide to help you get the benefits that you rightfully deserve. Just follow these steps.


Look at Your Departure
Before you get too excited about the prospect of collecting unemployment benefits, think back to how things ended at your old job. If your boss called you in his office and told you that you were fired, you might be able to collect benefits quite easily. However, if you decided that you were tired of the job and just quit, things will be a bit more complicated. If you did indeed quit, you may still be able to collect unemployment if you can prove that working conditions were unsafe or you were simply not receiving the wages agreed to in your contract with the employer.
Consider the Terms of Your Employment
If you just started your job over a week ago, you won't be able to get any unemployment benefits. Employers have instituted a base period – the amount of time that a particular employee has to work in order to receive unemployment benefits – to protect themselves from fraud. Remember that benefits are paid based on your earnings during the previously mentioned base period. So you may receive checks for $50 or one for $200. It all depends on your income.
File a Claim
Once you come to the conclusion that you're eligible to collect unemployment benefits, go ahead and file a claim online. In order to do this you will need everything from your driver's license and social security numbers to a summary of your gross earnings and W-2 form. You may also want to collect any proof that shows you were indeed fired.
Give Yourself Time
After you file a claim, you shouldn't expect to have a check in your mailbox the very next day. While most people receive their first payment in two or three weeks, it can take longer. You should pad your savings during this time period just in case your claim gets denied.
Job Hunt!
Even if you're approved for unemployment benefits, it doesn't mean you should get lazy and stop looking for a new job. Oh, and if you find new employment and continue to receive claims, you will be legally required to pay back every penny. So just be honest and don't try to cheat the system. If you do, it will catch up to you eventually.
Related Articles:
Tags: moving, tips, unemployment, work
This entry was posted on Tuesday, September 27th, 2011 at 12:35 pm and is filed under Florida. You can follow any responses to this entry through the RSS 2.0 feed. You can leave a response, or trackback from your own site.