California
Posted on September 27th, 2011 by Renaldo Smith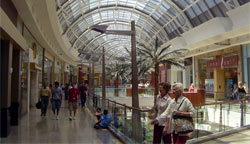 When you moved to Los Angeles, CA, you knew that you would be surrounded by stunning neighborhoods and progressive business districts. However, being the compulsive shopper that you are, it's a shame that nobody told you about the world-class shopping destinations here. If you can't wait to head out to the Beverly Center (8500 Beverly Blvd) or any of the other great shopping spots here, this MovingCost.com guide will give you some helpful tips.
Use Smart Timing
If you really need to do some shopping, having the right timing can make all the difference in the world. If you have a flexible work schedule, try to get as much done as you can early in the week. When you hit the mall on weekends, you are bound to encounter swarms of families and loud teens. This isn't the shopping experience that you want, is it?
Get Yourself a Map
When your house movers were following you to your new home, it was your navigation system that saved the day. So now that you're ready to hit the strip and do some shopping, make sure your directions are intact once again. When you visit a mall for the first time, walking around and browsing can force you to waste a lot of time. Instead, get a map of the mall directory so you know exactly where everything is. You can park next to your favorite stores and skip the long walks.
Look for the Deals
While there are tons of shopping options for you to choose from in Los Angeles, not all of them are affordable. If you see a coat that you really want, don't overpay for it in fear that you won't be able to find it elsewhere. When you live in a city of this magnitude, you will always be able to find a more economical deal one way or another. You should pay attention to online promotions and cut out any coupons that you see in the local newspaper. You can let your passion for fashion show without overspending in the process.
Avoid the Germs
Shopping malls are one of the most germ-filled places that you can visit. With a new job on the horizon, the last thing you want to do is get sick right now. So when you get ready to go shopping, don't forget to take a small bottle of hand sanitizer with you. Your welcome tour of Los Angeles won't be nearly as fun if you're coughing and sneezing the entire time.
Tags: affordable, budget, mall, online shopping, saving money, shopping, tips
This entry was posted on Tuesday, September 27th, 2011 at 12:47 pm and is filed under California. You can follow any responses to this entry through the RSS 2.0 feed. You can leave a response, or trackback from your own site.
One Response to "Do You Love Going to the Mall? Take Heed to These Shopping Tips"