California
Posted on July 15th, 2011 by Renaldo Smith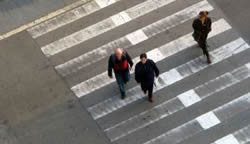 If you decided to sell your car before you moved to San Francisco, CA, we can't blame you. Now that you're living in one of the most walkable, pedestrian-friendly cities in the country, you probably won't need one. As you get ready to make the trip to and from work everyday, this MovingCost.com guide will give you some tips that will keep you entertained and productive as you walk.


Learn Something New
If you initially started walking to evade traffic and stay away from public transportation, you made a wise decision. But did you know that you can get even smarter as you walk? If you've always wanted to learn a new language, download an instructional program and practice during your trek to and from the office.
Catch Up with Friends
We know that walking is a great form of exercise that also allows you to clear your mind and take in nature. While that works, staring at the birds and the trees everyday can get a bit boring to say the least. That's why you should start using the time to reach out to your family and friends. Use your headset and make some calls to the people in your circle. Regardless of whether you spend the whole time venting about your miserable day at work or listening to crazy stories from the weekend, it will make the walk a whole lot better.


Walk Errands
The neighborhoods in San Francisco are filled with activity. Take advantage of it and save yourself from having to make multiple trips out of the house. If you need to pick up something for dinner, stop at the deli near your apartment and grab something quick. Or maybe your route leads you past the farmer's market. If that's the case, grab some fresh fruits to keep your taste buds happy during the walk.
Brainstorm
If you struggle to come up with ideas in a confining work environment, use the liberating walk to come up with ideas that could help you out the following day. Be sure to walk with a tape recorder to store your brilliant ideas or simply send a reminder to yourself using the notepad feature on your phone. By being disciplined, you will save yourself from having to do extra work at home.


Handle Your Business
When you have a bunch of missed calls and voice mails from utility companies, there's no need to wait until you get home to get back to them. If you need to pay some bills, use your cell phone to make the bank transactions and/or send important emails. Or maybe you need to find a team of apartment movers fast. If that's the case, just log on to MovingCost.com's easy-to-use site and find a crew that matches your needs.
Tags: health, lifestyle, moving
This entry was posted on Friday, July 15th, 2011 at 2:04 pm and is filed under California. You can follow any responses to this entry through the RSS 2.0 feed. You can leave a response, or trackback from your own site.