Arizona
Posted on September 21st, 2011 by Renaldo Smith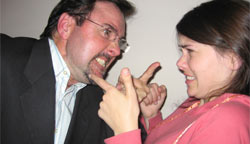 When your relationship began to take a turn for the worse, nobody could blame you for sticking around and trying to make it work. But everyone has their breaking point, right? If you're not sure whether you want to stay coupled or take a jump into "singledom," this MovingCost.com guide will help you out. Here are five signs that suggest you should call it quits.


No Real Romance
When you first moved in with your other half, it was the happiest time of your life. Just think back to when you would spend your evenings cooking together and watching romantic movies on the couch. Everything was going just fine! Unfortunately, those days are long gone, aren't they? If you're at a point where you feel as though you have a stranger for a roommate instead of the love of your life, it might be time for you to move on.
Such a Financial Burden
No matter how much you love someone, you will eventually get tired of them emptying your bank account. While it's okay for you to support your other half when they are down and out, you can't allow yourself to be nothing more than a source of income. If you're dating someone who isn't interested in going to school and/or getting a job, you may want to think about the joys of being single.
Too Much Infidelity
While you've been committed to the relationship all along, your partner has been dating you and several other people at the same time. If you have proof that your other half has been cheating on you, it's time for you to stand up and walk out. You deserve someone who will give you their all and treat you the way you deserve to be treated.
Arguments >Happiness
Before, you and your lover agreed on everything from which apartment movers you should use to the furniture that would look best in your living room. Nowadays, all you do is fight and pull each other down. When you realize that you're having more days fighting depression than you are smiling, it's definitely time for you to go your separate ways.
Your Heart Is Elsewhere
We all have that one ex that we still think about from time to time. But if you're completely head over heels in love with someone from your past, then you are really only wasting time in your current relationship. Build up the courage to end things now and go after the relationship that you really want.
Tags: lifestyle, planning, relationships, tips
This entry was posted on Wednesday, September 21st, 2011 at 12:03 pm and is filed under Arizona. You can follow any responses to this entry through the RSS 2.0 feed. You can leave a response, or trackback from your own site.