Arizona
Posted on August 26th, 2011 by Renaldo Smith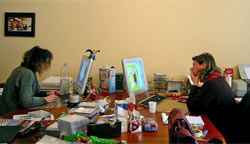 If you currently work in an environment where your coworkers don't respect you in the least bit, MovingCost.com will help you turn things around today. We've come up with a list of eight things that you could do to get your colleagues to treat you better. Let's not waste anymore time.


Start Giving Respect
If you stormed into the office with an attitude on your first day, it's time for you to simmer down and change the way you talk to people. Sometimes we are too busy playing the victim to realize that we are in the wrong as well. You've got to give respect to get it.
Check Your Work Ethic
When you slack off on a highly demanding job, everyone that genuinely works hard will probably show some resentment toward you. There's nothing more frustrating than having a coworker who makes more money for doing less work. Your colleagues won't ever respect you until you start pulling your own weight and being more productive.
Push Back for a Change
While some employees work too little, others work way too much. If you tend to do enough work on a daily basis for you and everyone else, snap out of it already. Unless you were hired to be an assistant, stop letting everyone sit back while you burn all of your energy.
Focus on Your Boss
Once you earn your boss' trust, it won't take long for your fellow employees to take notice. If the head of the company values you enough to seek your opinion on major deals and send you on company sponsored trips, then you must be doing something right.
Evade the Gossip
Being involved in office gossip will do nothing but land you in trouble. By staying far away from the everyday lies and ludicrous stories, you will avoid arguments and gain support.
Ask for Advice
There's a thin line between being knowledgeable and acting as though you know it all. Nobody really likes someone who is condescending and makes them feel dumb. To show that you're humble and willing to be a team player, reach out to your fellow employees sometimes and ask for advice every now and then. This will give them an ego boost that will lead to them giving you the respect you rightfully deserve.
Take the Lead
If taking a step back and following the lead of your coworkers doesn't work, maybe you should be more proactive. Sometimes speaking your mind and revealing some of your brilliant ideas can be enough to get everyone on your side.
More than Work
If you really want your coworkers to respect you, give them a chance to see what you're like outside of work. If someone needs help moving, show up to assist the apartment movers. Or maybe the lady that sits next to you invited you to her birthday party. Instead of making up an excuse, just go for a change.
Tags: coworkers, office, work environment
This entry was posted on Friday, August 26th, 2011 at 11:20 am and is filed under Arizona. You can follow any responses to this entry through the RSS 2.0 feed. You can leave a response, or trackback from your own site.