Alabama
Posted on June 29th, 2011 by Renaldo Smith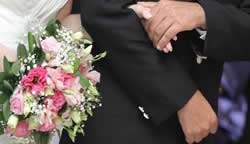 It's crazy how life plays out sometimes. When you were tired of dealing with failed relationships, you moved to Mobile, AL to get away from it all. But as soon as you decided to focus on nothing but your career, you met the love of your life. Now a few months after your stint of apartment movers and moving services, you're on the verge of putting together your wedding plans. If you are ready to head out and search for your ideal wedding venue, take a look at these tips from MovingCost.com.
Envision Your Dream Wedding
Since Mobile will present you with so many different possibilities, it's imperative that you come up with a plan before you leave home. With gas prices so high, there's no need for you to drive all around the city and try to check out every venue that exist. Are you intent on tying the knot in a church? Or were you thinking about more of an auditorium with a concert hall kind of feel? No matter what the case may be, do some brainstorming before you start your research.
Be Proactive
Once you know what direction you want to go in, start making calls to check both availability and pricing. During this process, don't forget to keep your wedding guests in mind. Just because you really want to get married under the stunning chandeliers in a particular room, it won't make much sense if all of your guests won't be able to fit into the building. Take some time to think about the amount of people you want to invite and then find a venue that can work.
Ask Questions
When you start visiting different venues, there are certain questions that you should ask upfront. After you inquire about payment, speak to the building's staff to ensure that you're on the same page. Quiz them about their experience and make sure that they are ready to do whatever it takes to make sure your wedding day goes smoothly. Next, ask if there's anything you can do to get a lower rate. Some venues impose ridiculous hidden fees that can easily be avoided with a little conversation.
Think Outside the Community
Even though Mobile is an amazing city, there is no guarantee that you will discover your ideal wedding venue here. If you find yourself in a situation like this one, we don't think you should settle. After all, you want this day to be as special and memorable as possible, right? If you fall in love with a venue in another city, just go for it without regrets. Of course, you will have to give your entire wedding party enough time to prep for the trip, but it's all about doing what makes you happy at the end of the day.
Tags: marriage, moving, relationships
This entry was posted on Wednesday, June 29th, 2011 at 8:38 am and is filed under Alabama. You can follow any responses to this entry through the RSS 2.0 feed. You can leave a response, or trackback from your own site.