Learning Center
Posted on April 14th, 2011 by Julie Rodrigues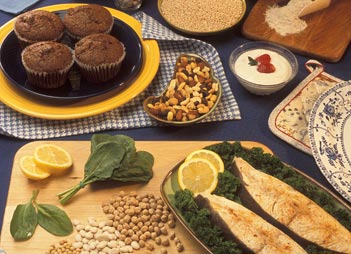 Gluten is a protein composite that gives dough its elastic property. It occurs in foods that are processed from wheat, rye and barley. You may have noticed a surge in products with gluten-free labels and you may have heard that gluten-free diets can detoxify, help with weight loss and autism and a bevy of other conditions. With all these books, articles, recipes and studies, should everyone be avoiding gluten? Actually, this diet is specifically geared towards 0.5 to 1.0 percent of Americans who are sensitive to gluten due to celiac disease.
Celiac disease is a lifelong autoimmune disorder of the small intestine. About one in every 100 people are affected by celiac disease. The immune systems of those affected treat gluten as a foreign invader, which results in a damaged small intestine and inadequate absorption of nutrients. There is a long list of varying symptoms that can go unnoticed until there is a flare. This disorder is often misdiagnosed as irritable bowel syndrome or anemia. The most common symptoms include constipation, bloating and abdominal pain. These can also be attributed to a number of other problems, so diagnosis can be difficult.
To make matters even more challenging, now symptoms of celiac disease include infertility, rashes, arthritis and more. Often, patients don't even know they have the disorder until a very bad flare-up suddenly occurs or other problems arise. Diagnosis is possible, but can come after a long series of tests.
For an accurate diagnosis, there must blood and other tests and an examination of family medical history (celiac disease is genetic). One should not try going gluten-free before they speak with a doctor. Don't try to diagnose yourself with the disease for in the long run, you may do more harm than good. Always speak to a doctor about your choices. Don't try going gluten-free for weight loss for it may simply lead to weight gain, and certainly don't go gluten-free before moving since you need proper nutrition.
Essentially, celiacs have an intolerance to wheat. Their immune systems attack gluten in the gut because it does not decipher it as nutrition; rather, it views it as a pathogen. There have been a few studies, but it is estimated that there are over 3 million people with the disorder, when it was once believed to be rare. Only ten percent of these people have been diagnosed. It is also suspected that celiac disease is on the rise. Luckily, for those who find that they have the disease, there are new gluten-free diet books and foods.
Gluten-free diets are basically wheat free. Avoiding wheat and wheat-based foods can be very difficult, since they are everywhere. But with more gluten-free products and awareness, it is getting easier. Corn, beans, rice, seeds and potatoes are safe foods to eat. Read ingredient labels and avoid processed foods since they often contain wheat fillers. Unprocessed meats, poultry, eggs and fish are fine. Make sure any dairy products you consume do not have any added wheat ingredients.
If you truly have celiac disease, going gluten-free will alleviate symptoms and allergies, allow the intestine to heal and prevent further damage.
MovingCost.com wants to hear from you. Feel free to comment or contact us on Facebook or Twitter. Remember that we are your number one method of getting in touch with quality moving services.
Tags: health, healthy diet, healthy foods
This entry was posted on Thursday, April 14th, 2011 at 8:00 am and is filed under Learning Center. You can follow any responses to this entry through the RSS 2.0 feed. You can leave a response, or trackback from your own site.