Learning Center
Posted on May 16th, 2012 by MovingCost.com
Packing up a household may seem overwhelming beyond belief. That is entirely understandable. But with some advance planning and an eye for detail, it can be achieved without the stress that is generally associated with moving. Moving you with ease is our priority. It's no wonder that so few complaints are received. Why, you might ask? Because we are consistantly educating our customers on everything, from best time to move to general packing guidelines, all the while upping the ante on our already elite service.
What to pack
what not to pack? When should you start packing? Is there a right way and a wrong way to pack? What if you have no time to pack? No worries! We've got the answers for you right here! Let's address these issues, one at a time.
What Are You Packing?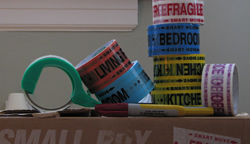 When you look around at your house and the accumulation of "stuff," you might go into panic mode, but that's totally unnecessary. This is a wonderful time to clear out all of the stuff for which you no longer have need. Your kids' broken toys, maternity clothes, Tupperware with no lids, and lids with no Tupperware! Not to mention antiquated electronics and appliances. You are not alone, and that is why we prepare these guidelines to help everyone dealing with the same scenarios.
When to Start Packing
Start packing as soon as you know that you are moving. Even if it is six or seven months down the road, it is amazing how much packing can be done in advance. Items that are pushed way, way back in the hall closet, linen closet and kitchen cupboards are prime for packing ahead of time. Also, if there are no big holiday dinners planned, begin packing away the good china and crystal. Delicate items take the most time to pack so, the earlier the better. We encourage you to draft a timeline and stick to it. A little bit every day sure beats last minute rush.
There's a Right Way to Pack
Choose the appropriate box for each type of item. Small, sturdy boxes for books, dishes and fragile items, medium size boxes for toys, games and miscellaneous items and large boxes for lighter articles such as plastics, comforters and pillows. Specially designed boxes for glasses with separators are preferable. Use wardrobe boxes for hanging garments. Pop quiz – is there a right way and a wrong way to pack with bubble wrap? Absolutely! The correct way is bubbles on the inside, up against the item you are packing.
No Time to Pack?
You are a mother of triplets with a husband who works out of town several weeks out of every quarter. How do you get your packing done? You don't! Leave it to the experts who can save you time and give you an anxiety-free move. Most moving companies will pack and unpack for you. Aren't you glad you thought of everything?
Tags: moving boxes, Moving Tips, packing
This entry was posted on Wednesday, May 16th, 2012 at 1:39 pm and is filed under Learning Center. You can follow any responses to this entry through the RSS 2.0 feed. You can leave a response, or trackback from your own site.