Learning Center
Posted on June 28th, 2011 by Julie Rodrigues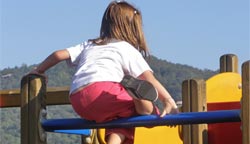 Monkey bars are a perfect addition to your backyard playground. Building an outdoor play area for your children is beneficial to their health, inspiration and socialization. Monkey bars help children develop powerful shoulder, back and arm muscles. They are recommended for children over the age of six, but younger ones can participate in the outside fun with your assistance. MovingCost.com will explain how to build your very own and very fun set.
Playground equipment can be pricey so it is smart to do it yourself. The following instructions will show you how to make inexpensive, convenient, yet sturdy monkey bars. You will be able take the set with you when you move. Once you acquire the necessary supplies, the entire assembly process should only take you a few hours. You can complete it during an afternoon, which will make your little ones excited to see their new play gym ready before suppertime.
Supplies:
4 ten-foot exterior 2×4′s
11 eight-foot exterior 2×4′s
2 lbs of 2 1/2″ exterior screws
32-40 linear feet of 1 1/8″ dowel rods
4 3/8" and 4" long carriage bolts with fitting washers
Tools needed:
Marker
Electric drill
¼ in. drill bit
Tape measure
Screwdriver bit
Chop (or miter) saw
1 1/8 in. spade drill bit
Other items to have handy:
Square
Rubber mallet
Clamps bigger than 3″
Someone to assist with the last steps
Before you begin, here are a few safety tips:
Wear gloves and eye protection
Allow the drill to cool from time to time
Steps:
Begin with the piece that will suspend overhead. Take the 1 1/8″ drill bit and drill 2″ deep holes that are the same diameter of the dowel into the side of each of the four eleven foot 2x4s. Begin drilling 3″ from the end with 1′ intervals between holes so the last hole will end up 3″ from the other end.
Laminate a second 2×4 to one side of each 2×4 that you drill a hole into.
Insert the dowel into the holes to create the rungs. Now you have overhead monkey bars.
Make two small ladders. The rungs of each should be closer together, so allow 12″ of spacing. Three or four rungs is fine, but the 2x4s for the ladder must go higher than the rungs. The monkey bars should be reachable from the top of the rungs.
To attach the monkey bars to the ladders, make the outer 2x4s on the ladder longer than the inner 2x4s and the inner 2x4s longer than the outer on the monkey bars. Doing so would allow the monkey bar's inner 2x4s to rest on the ladder's inner 2x4s, and the ladder's outer 2x4s to overlap the monkey bar's inner 2x4s.
Send carriage bolts through to hold the structure together.
Voila! You've got a basic set of monkey bars. Secure them from tipping over by attaching them to a playground structure. For free-standing monkey bars, cement them into the ground.
MovingCost.com was glad to provide you with this monkey bar-building guideline. May you and your family have plenty of fun on your very own set!
Tags: building monkey bars, children entertainment, how to build
This entry was posted on Tuesday, June 28th, 2011 at 8:45 am and is filed under Learning Center. You can follow any responses to this entry through the RSS 2.0 feed. You can leave a response, or trackback from your own site.