Learning Center
Posted on July 13th, 2011 by Taraya Bell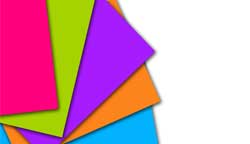 Moving into a new home always brings a sense of freshness, a new start some will say. Well, make sure to start off on the right foot by organizing your new home with simple color coding tips and tricks.
With these ideas, you will never have to dig through your thanksgiving decorations for your old high school yearbook. Taking the time to label and color organize your home before and after your move will make both processes that much brighter.
What you'll need:
Tape
Boxes
Markers
Colored Labels
List of House Items
Once most of your house contents are ready to be packed, begin to separate the boxes by categories, which will help you once you start labeling. Create a system that fits you best based off of your inventory. If you're the organizer for the whole family, make sure to involve them in your plan to make the process easier. Create a rough draft list of everything you're moving and which area of the house it will be going to. Break down each box by category, content or even by the section of the house it will end up in. Remember to be as specific as possible and avoid using words like "Stuff" or "Miscellaneous." Here is an example of an inventory list by area.
Start with a breakdown of each room/section of the house:
Office
Kitchen
Living Room
Dining Room
Childrens' Room
Attic or Basement
Garage/Outdoor/Patio
Master Bedroom and Closet
Bathrooms (Master, Guest, Etc.)
Before your actual move and once your inventory list is complete, be sure every box has the correct label and is sealed.
When determining what to label consider how often you use what's in the box and its importance. When using the different categories, be sure to try to keep the colors consistent as a helper. Try using blue labels for your son's room and green for outdoor items. When describing what's in which box, use a header with specific terminology, such as Kitchen: Silverware, Kitchen: Glassware-Plates, etc. When it comes time to unpack, you should have no problem sorting out what needs to be where.
Here is an example of what a detailed color coded inventory list could look like:
Room
Label Colors
Details
Office
Red
Medical Records, Insurance, Bills, Etc.
Kitchen
Orange
Plates, Silverware, Glassware, Pots, Pans, Etc.
Bathroom
Purple
Towels, Shower Curtains, Toiletries, Etc.
Master Bedroom
Black
Sheets, Clothes, Accessories, Etc.
Girl/Boys Bedroom
Pink /

Blue

Toys, Books, Clothes, Etc.
Dining Room

Yellow

Fine China, Table Decorations, Etc.
Living Room
White
Pictures, Keepsakes, DVDs, Etc.
Attic/Basement

Grey

Keepsakes, Old Photos, Memorabilia
Garage/Outdoor/Patio

Green

Lawn Care, Pool Items, Holiday Decorations
Once your move is complete, unpacking should be a breeze with your new labeling system to help you out. To continue your new-found organizational scheme, try continuing to label items in the house as reminders or alerts. Hazardous items should be marked with yellow or red for warning while Christmas decorations should have a green label with red writing to add some creativity. Whichever your preference, creative color coding and labeling will keep your items organized and your searches radiant.
Related Articles:
Tags: labeling, moving, organizing
This entry was posted on Wednesday, July 13th, 2011 at 8:45 am and is filed under Learning Center. You can follow any responses to this entry through the RSS 2.0 feed. You can leave a response, or trackback from your own site.